Chronicle hits the road for homeless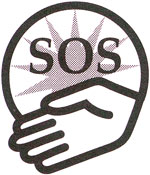 Here at The Chronicle, we enjoy any opportunity for a road trip, and we've spotted one in the form of a fundraiser that combines dining and donations.
The fundraising effort for SOS Community Services is called Dine Out to Help the Homeless. It's a two-day affair, ending on this Saturday, Nov. 22. According to Kate Zellers, development associate for SOS, the nonprofit has teamed up with seven area purveyors of food and beverage to solicit contributions from diners this weekend. Customers can make their contribution to SOS in the form of an extra "menu item" for the donation – a special dish that will make you feel warm and fuzzy inside even if you only enjoy a small portion.
Reflecting on how well-received our Election Day coverage was, The Ann Arbor Chronicle has decided to do our part by including in our Saturday itinerary all of the participating restaurants (even if we're not planning to file detailed updates from the field):
Saturday, Nov. 22 Chronicle Itinerary
Side Track Bar and Grill
Corner Brewery
The Arena
Arbor Brewing Company
Blue Tractor and Cafe Habana
Grizzly Peak
Old Town Tavern
Our first thought was to make this progressive dinner a perfect parallel to our Election Day coverage by bumming another ride off city attorney Stephen Postema (or more accurately, his son and daughter). But his park-anywhere pass was only good for Election Day, so we figured we'd opt for the ride that requires no parking: AATA buses. Whether they're bio-diesel hybrids or cute purple Link buses, they require no driving or pedaling and barely any walking, so we'll be able to sample the full range of food and beverages at these various establishments. Yes, we do understand that the promotion is not called Getting Hammered for the Homeless.
Based on our conversation with Zellers, here's what we're expecting at these establishments. Our server will be wearing a button or some other type of "flair" to alert customers to the SOS promotion. At some places, there'll be a menu item labeled as the SOS donation. We figure our servers will probably "upsell" the donation in very much the same way fries get up-sold from chips at The Old Town: "Now, your hand-pulled pork barbecue sandwich comes with chips, but would you like fries?" So we imagine it could go something like this, "Now, we're going to pour your beer into a glass, but would you like us to pour some of your cash into the donation pitcher as well?" And in fact, at some of these bars, the SOS donation will be handled less like menu items and more like a pitcher that's passed for musicians.
In any case, our plan is to make it easy for wait staff. When they show up at the table, our first question will be, "Can we start off with the SOS donation appetizer?" And we'll be hoping for a response along the lines of, "Sure, I'll put that in for you right away!" Mmm, fresh-baked dough-nation right out of the oven.
Schedule-wise we're not committing to anything but the order of establishments listed out above. But depending on WiFi connectivity at different places, we might file simple updates on our location. Hello in advance to Chronicle readers we might meet along the way!
Editor's note: The links to the restaurants above lead to the ArborWiki entry for each establishment. If one of those places is missing some useful information that you can supply, use that "Edit" button and add it.