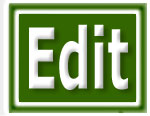 Yes, we know it's not quite Wednesday yet, but here at The Chronicle it's already Wiki Wednesday, an occasional series in which we remind readers of the online encyclopedia, ArborWiki, to which they can contribute their knowledge of the community. On Wiki Wednesdays we try to offer a clear path for contribution to ArborWiki.
Most links contained in this article lead to ArborWiki entries that can be edited or created from scratch.
This week we focus on How-To articles. ArborWiki isn't really intended for general interest How-To articles – how to plant a garden, how to arrange an attractive flower bouquet, how to organize an effective political campaign. But each of those general interest categories could be Ann-Arbor-ized. For example, a garden in a particular place – like a lawn extension (the space between the sidewalk and the street) might require special permissions in Ann Arbor or need to comply with certain rules. Or one could imagine a flower bouquet made of wildflowers collected from locations in Ann Arbor where specific types are known to thrive.
Or one could imagine a nice nuts-and-bolts rundown of the mechanics of an Ann Arbor city council campaign. [Full Story]