Online survey for Chronicle readers now available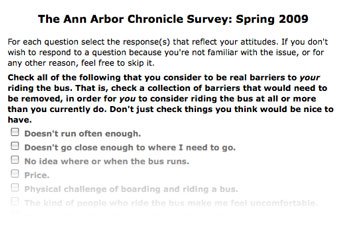 A few months ago we wrote about developing an online citizen survey here at The Chronicle, and wrote confidently: "We'll launch the survey on Jan. 1, 2009."
Happy New Year.
With input from several readers on topics and wording, we've put together a final draft. Here's the survey link for readers who'd like to get started right now. For others, here's a couple of notes about how it's set up.
The whole survey is presented on a single screen. First, Chronicle readers will be accustomed to using their vertical scroll bars. Second, you can give it a quick overview at the beginning and assess whether you think you've got time to complete it. We think it will take around 10-15 minutes.
We've tried to sample from a variety of issues – some of them quite current and pressing, others ongoing. Not all readers will be familiar with every issue. We've supplied opt-out choices. Plus we've allowed for only partial completion of the survey.
Based on suggestions from readers, we've eliminated questions about the market potential for apparel themed with Bezonki (our once-a-month Sunday Funnies feature), as well as some especially tedious exploration of readers' understanding of tax-increment financing. We've added some items about media creation, neighborhood coherence and transportation as well as adjusted wording and scales on several items.
The survey is hosted on the domain homelessdave.com. Do not be alarmed if you see that in a URL somewhere. That's a world that belongs to The Chronicle, too.
We'll let the survey run for an as-yet-undetermined period, but it won't be left up forever. We'll compile the aggregated results in some reasonable way. Here's the survey link again. Have at it.