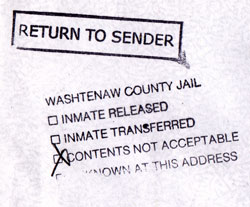 Editor's Note: After the break begins the final installment of the Washtenaw Jail Diary, written by a former inmate in Washtenaw County's jail facility on Hogback Road. The piece originated as a Twitter feed in early 2009, which the author subsequently abandoned and deleted. See previous Chronicle coverage "Twittering Time at the Washtenaw County Jail."
In now working with the author to publish the Washtenaw Jail Diary, The Ann Arbor Chronicle acknowledges that this is only one side of a multi-faceted tale.
We also would like to acknowledge that the author's incarceration predates the administration of the current sheriff, Jerry Clayton.
This narrative, which has run over a series of several installments, provides an insight into a tax-funded facility that most readers of The Chronicle will not experience first-hand in the same way as the author.
The language and topics introduced below reflect the environment of a jail. We have not sanitized it for Chronicle readers. It is not gratuitously graphic, but it is graphic just the same. It contains language and descriptions that some readers will find offensive. [Full Story]