Editor's note: The Chronicle's regular coverage of civic affairs includes many meetings of Ann Arbor's greenbelt advisory commission (GAC) as well as the city's historic district commission (HDC). The GAC oversees the spending of revenues from a millage dedicated to the preservation of open space – much of it in the countryside around Ann Arbor. Inside the city, the HDC is charged with reviewing requests for modifications to structures that are preserved in Ann Arbor's 14 historic districts.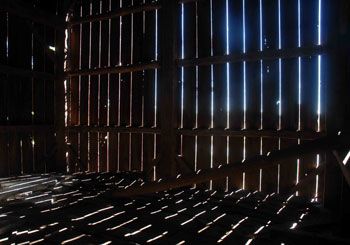 In following The Chronicle's coverage of these issues, local architect Chuck Bultman has been wrestling with the notion of where old barns fit into this preservation picture.
Every architect remembers that first time they went into a barn – the vastness of the space, the hewn beams, the light streaming through all of those gaps. For me it was in southwest Virginia, in the country going to college. I was captivated by the light and space. Outside, the farmyard also made its statement. The large red barn, along with the out-buildings made a room with a silo in it, not so much unlike a piazza with a campanile.
Barns have an interesting place in the built world. They are icons in the landscape, and as such it is easy for us all to assume a familiarity, bordering on ownership. After all, they have been there for as long as you can remember and you expect them to be there long after you are gone. We think of barns not as in the landscape. Instead, like rivers or mountains, they seem part of it – an inseparable part of the countryside that surrounds towns and cities across the country, coloring the landscape with distinct personalities. They are variously described as timeless, strong, permanent, and historic.
But barns are not part of the landscape, nor are they timeless, permanent, or historic – at least as we might commonly apply the word "historic" to an achievement, for example. [Full Story]