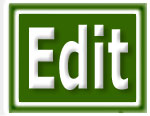 It's Wiki Wednesday again, an occasional series in which The Chronicle reminds readers of the online encyclopedia, ArborWiki, to which they can contribute their knowledge of the community. In the inaugural edition of our Wiki Wednesday series, we suggested adding to some ArborWiki entries consisting of name lists. One of those name lists was a historical record of people who have served on Ann Arbor city council.
Following that link reveals a whole host of additions, since last week, some dating back to the 1950s. Other additions are more recent.
What good is a list of names, though, if we don't know who these people are? Take as an example one of the recent additions to the list of city council members who've served sometime in the past: Jean Carlberg. If you click on her name in that ArborWiki list, the result (as of this writing) takes you straight to a blank editing window for the page about Jean Carlberg, which doesn't currently exist. It's ArborWiki's way of saying, "Hey, this page needs to be created – how about giving it a shot?" That makes it easy to add whatever you might know about Jean Carlberg. ArborWiki needs an entry for Jean Carlberg. She's been mentioned in The Chronicle as recently as today. And that's not the first time.
And there's plenty of other people who need an entry as well. For a quick overview of all the people who already have an entry in ArborWiki, visit the People page. You can't click on something that's not there, so what if you notice a gap – a name that's not on the list that should be? There are a couple of different ways to create a page for somebody. We'll highlight just one. Head to the ArborWiki home page and scroll to the very bottom. Here's what you'll see:
Bear in mind that in creating a page for someone, the idea is to provide encyclopedia-type information, not a promotional resume. It might not be a great idea to try to write your own entry. Have at it.